As part of the Unified Community Platform project, this wiki and 38 others will be migrated to the new platform in the next few weeks. Minimal changes are expected as part of this migration. Read more here.
Bleach dogwood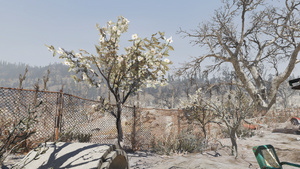 "
Long ago, barkless dogwood tree branches were used as toothbrushes. Isn't that fascinating?
"
— Scout Leader Jaggy
Bleach dogwood is a type of mutated flowering dogwood tree once commong to West Virginia. This small tree has become a part of human culture over the centuries, thanks to its white flowers, which were used for proposals during Victorian era. Beyond that, it was also a useful utility plant, as its roots could be used to attract muskrats into traps and their bare branches could be used as toothbrushes.[1]
Most notably, bleach dogwoods have been able to weather the desolation unleashed on the Toxic Valley by the sabotaged Grafton Steel mill. Where other plants have withered and died, the dogwoods have continued to bloom, but require periodic fertilization using the aerosolizers placed in the derelict farms across the Valley.[2] Beyond their appealing looks, wastelanders also favor them for their high-yield timber.
References