Brahmin tipping (special encounter)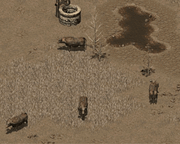 Brahmin tipping is a special encounter in Fallout Tactics. During this encounter, the player will find several brahmin surrounded by a fence, with a sign posted nearby that says: "Do NOT tip the brahmin." By interacting with the brahmin, the player can tip them over.
Behind the scenes
This is reference to the more rural past-time of cow tipping.