As part of the Unified Community Platform project, this wiki and 38 others will be migrated to the new platform, with migrations beginning September 23rd at 7am CDT. Minimal changes are expected as part of this migration. Read more here.
Camera film
| | |
| --- | --- |
| | This is a lore summary, presenting intradiegetic or in-universe information about the subject. For game characteristics and similar data, consult the table on the right. |
Camera film is a celluloid material used in conjunction with a chemical process after exposure to light to produce photographs. Camera film, despite the onset of holography technology, is still a popular choice among journalist, tourists, and the hobbyist photographer over digital photographs. Even after the war, analog cameras still saw use and could be repaired easily with readily available materials.[1][2][3]
Types
Codac camera film

Produced by Codac for use in the R9000 Deluxe camera. The film shoots at 400 ISO,[4] perfect for capturing photographs of signs outdoors around the Mojave and other general purposes.
ProSnap camera film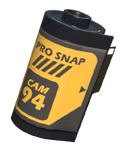 ProSnap CAM 94 produced for use in the ProSnap Deluxe camera. CAM 94 film shoots at 400 ISO,[5] perfect for capturing photographs of tourist attractions around Appalachia and other general purposes.
References