Cave fungus
| | |
| --- | --- |
| | This is a lore summary, presenting intradiegetic or in-universe information about the subject. For game characteristics and similar data, consult the table on the right. |
Cave fungus is a food item mentioned in Fallout 2, and found in Fallout 3, Fallout: New Vegas and the add-on Honest Hearts. It is also a world object in Fallout 3 and Fallout: New Vegas.
Biology
These orders of fungi are typically red and white, glowing green, or brain-like mushroom caps that only grow in cool, dark and damp environments, like caves. The red and white variety have a particularly useful mutation for humans that allows them to absorb radiation out of bodily tissue when eaten. This cave fungi can also be used to craft hydra, a chem that quickly regenerates crippled limbs.
Variants
Cave fungus

Red and white mushroom caps found in caves throughout the Capitol and Mojave Wasteland.
Glowing cave fungus
Identical to regular cave fungus, save that it gives off a lime green glow.
Brain-like fungus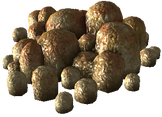 A fungus commonly found on the floors of caves in the Capitol and Mojave wastelands.
References