As part of the Unified Community Platform project, this wiki and 38 others will be migrated to the new platform in the next few weeks. Minimal changes are expected as part of this migration. Read more here.
Fallout Tactics recruits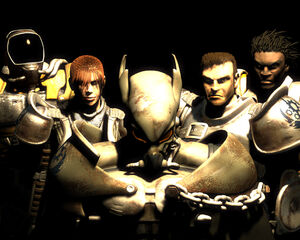 This page lists all companions in Fallout Tactics.
The content is not described in full detail on this page. For details, please see the respective articles.
For companions in other Fallout games, please see "Companion".
For an overview of Fallout Tactics content, please refer to "Portal:Fallout Tactics".
List of recruits
Name
Required rank
Prerequisite
Level
Race
Traits
SPECIAL
Skills
Perks
Alice
Knight
Complete Mardin
11
Human
Fast Shot
Strength: 9
Perception: 6
Endurance: 7
Charisma: 2
Intelligence: 3
Agility: 8
Luck: 5
Big Guns, Energy Weapons, Throwing
Faster Healing, Snakeater, Die Hard
Babs
Senior Squire
Save the ghouls in Quincy
7
Ghoul
Small Frame, Tech Wizard
Strength: 5
Perception: 7
Endurance: 5
Charisma: 6
Intelligence: 8
Agility: 8
Luck: 5
Small Guns, Lockpick, Steal
Master Thief, Flexible
Beth
Squire
Complete Rock Falls
5
Human
Bruiser, Heavy Handed
Strength: 10
Perception: 5
Endurance: 7
Charisma: 4
Intelligence: 4
Agility: 8
Luck: 4
Unarmed, Melee Weapons, Repair
Bonus HtH Damage
Billy Bob
Senior Squire
Save the ghouls in Quincy
8
Ghoul
Glowing One, Fear the Reaper
Strength: 6
Perception: 12
Endurance: 8
Charisma: 2
Intelligence: 6
Agility: 4
Luck: 5
Small Guns, Energy Weapons, Throwing
Pack Rat, Stunt Man
Bob
Senior Knight
Complete Osceolla
14
Mariposa super mutant
Heavy Handed, Ham Fisted
Strength: 12
Perception: 4
Endurance: 5
Charisma: 4
Intelligence: 4
Agility: 6
Luck: 5
Big Guns, Unarmed, Melee Weapons
Bonus HtH Damage, Action Boy, Tough Hide
Boomer
Knight
Complete Mardin
11
Human
One Hander
Strength: 10
Perception: 6
Endurance: 6
Charisma: 5
Intelligence: 4
Agility: 8
Luck: 2
Small Guns, Throwing, Traps
Stonewall, Stunt Man, Bone Head
Boomer
Initiate
Tutorial character; not available in the campaign
2
Human
Strength: 7
Perception: 6
Endurance: 7
Charisma: 4
Intelligence: 4
Agility: 7
Luck: 5
Small Guns, Throwing, Sneak
Box
Paladin Commander
Complete Newton
18
Human
Bruiser, Skilled
Strength: 10
Perception: 5
Endurance: 9
Charisma: 2
Intelligence: 4
Agility: 8
Luck: 4
Small Guns, Big Guns, Unarmed
Bonus Ranged Damage, Bonus Rate of Fire, Rad Resistance, Action Boy (2), Stonewall
Brian
Initiate
Available from the start
2
Human
Fast Shot
Strength: 6
Perception: 5
Endurance: 9
Charisma: 1
Intelligence: 5
Agility: 9
Luck: 5
Small Guns, Big Guns, Sneak
Bullseye
Initiate
Tutorial character; unavailable in the campaign
2
Human
Small Frame
Strength: 5
Perception: 8
Endurance: 4
Charisma: 3
Intelligence: 7
Agility: 9
Luck: 5
Small Guns, Big Guns, Sneak
Chuck
Knight
Complete Osceolla
11
Mariposa super mutant
Vat Skin
Strength: 13
Perception: 4
Endurance: 11
Charisma: 1
Intelligence: 3
Agility: 5
Luck: 3
Big Guns, Energy Weapons, Throwing
Action Boy, Psychotic, Tough Hide
Clarise[1]
General
Complete Newton
22
Human
Small Frame, Fast Shot, Gifted
Strength: 5
Perception: 11
Endurance: 6
Charisma: 8
Intelligence: 9
Agility: 10
Luck: 4
Big Guns, Energy Weapons, Throwing, Sneak
Bonus Move, Dodger, Heave Ho!, Tag!, Gain Perception, Gain Endurance, Quick Recovery, Weapon Handling, Tunnel Rat, Flexible, Leader, Divine Favor
Cookie
Junior Paladin
Complete Osceolla
15
Mariposa super mutant
Heavy Handed, Fast Shot
Strength: 10
Perception: 5
Endurance: 8
Charisma: 2
Intelligence: 5
Agility: 8
Luck: 2
Big Guns, Melee Weapons, Throwing
Bonus HtH Attacks, Bonus HtH Damage, Action Boy, Heave Ho!
Creeper
Senior Squire
Complete Mardin
8
Human
Strength: 6
Perception: 7
Endurance: 5
Charisma: 2
Intelligence: 8
Agility: 8
Luck: 4
Small Guns, Unarmed, Sneak
Silent Running, Flexible
Debbie
Paladin Lord
Complete Newton
20
Human
Good Natured
Strength: 7
Perception: 7
Endurance: 6
Charisma: 4
Intelligence: 7
Agility: 8
Luck: 3
Small Guns, First Aid, Sneak, Traps
Action Boy (2), Medic!, Tag!, Stonewall, Team Player, Die Hard
Dillon
Junior Knight
Save the ghouls in Quincy
9
Ghoul
Gifted, Glowing One
Strength: 6
Perception: 14
Endurance: 6
Charisma: 2
Intelligence: 7
Agility: 5
Luck: 9
Small Guns, Science, Repair
Sharpshooter, Better Criticals
Doc
Initiate
Tutorial character; unavailable in the campaign
1
Human
Strength: 6
Perception: 7
Endurance: 6
Charisma: 6
Intelligence: 7
Agility: 5
Luck: 3
Small Guns, First Aid, Doctor
Dos
Paladin Commander
Complete Newton
18
Human (Reaver)
Finesse, Gifted
Strength: 6
Perception: 10
Endurance: 8
Charisma: 2
Intelligence: 7
Agility: 6
Luck: 9
Small Guns, Energy Weapons, Traps, Science
Bonus Rate of Fire, More Criticals (3), Toughness, Sharpshooter, Loner
Ed
Knight
Complete Newton
11
Human
Tech Wizard[2]
Strength: 6
Perception: 3
Endurance: 5
Charisma: 3
Intelligence: 10
Agility: 7
Luck: 5
Small Guns, Lockpick, Repair
Dodger, Mr. Fixit, Pack Rat
Farsight
Senior Initiate
Starting character
1
Human
Strength: 5
Perception: 8
Endurance: 5
Charisma: 5
Intelligence: 6
Agility: 7
Luck: 4
Small Guns, Sneak, Outdoorsman
Fran
Senior Knight
Complete Osceolla
14
Human
Small Frame, Finesse
Strength: 5
Perception: 7
Endurance: 5
Charisma: 4
Intelligence: 6
Agility: 9
Luck: 5
Melee Weapons, Sneak, Lockpick
Silent Death, Action Boy (2), Ghost, Light Step
Ghost
Initate
Tutorial character; unavailable in the campaign
2
Human
Strength: 5
Perception: 7
Endurance: 5
Charisma: 3
Intelligence: 5
Agility: 9
Luck: 6
Melee Weapons, Sneak, Lockpick
Harold
Junior Knight
Save the ghouls in Quincy
11
Ghoul
Skilled, Fear the Reaper
Strength: 6
Perception: 6
Endurance: 6
Charisma: 1
Intelligence: 7
Agility: 6
Luck: 12
Small Guns, Throwing, Traps, Repair
Die Hard, Rad Child, Bonsai, Way of the Fruit
HR 1205
Initiate
Complete Canyon City
22
Humanoid robot
Tight Nuts, EMP Shielding
Strength: 10
Perception: 7
Endurance: 7
Charisma: 1
Intelligence: 4
Agility: 6
Luck: 5
Big Guns, Energy Weapons, Unarmed
Hurt
Junior Knight
Complete Mardin
10
Human
Strength: 7
Perception: 5
Endurance: 6
Charisma: 4
Intelligence: 7
Agility: 6
Luck: 5
Small Guns, First Aid, Doctor
Comprehension, Team Player, Stat!
Ice
Senior Initiate
Available from the start
4
Human
Finesse
Strength: 6
Perception: 7
Endurance: 7
Charisma: 2
Intelligence: 5
Agility: 8
Luck: 5
Small Guns, Sneak, Outdoorsman
Loner
Jax
Initiate
Available from the start
1
Human
Kamikaze, Fast Shot
Strength: 6
Perception: 6
Endurance: 7
Charisma: 4
Intelligence: 5
Agility: 7
Luck: 5
Small Guns, Big Guns, Energy Weapons
Jim Grimm
Paladin Commander
Save his brother in theBrothers Grimm special encounter
Mariposa super mutant
Fast Shot, Vat Skin
Strength: 10
Perception: 5
Endurance: 8
Charisma: 2
Intelligence: 5
Agility: 8
Luck: 2
Big Guns, Energy Weapons, Throwing
Bonus Rate of Fire, Steady Arm, Hit the Deck, Tough Hide
Jo
Initiate
Available from the start
2
Human
Strength: 7
Perception: 5
Endurance: 8
Charisma: 4
Intelligence: 5
Agility: 6
Luck: 5
Small Guns, Repair, Pilot
Joe Grimm
Paladin Commander
Save him in theBrothers Grimm special encounter
Mariposa super mutant
Fast Shot, Vat Skin
Strength: 13
Perception: 5
Endurance: 6
Charisma: 3
Intelligence: 3
Agility: 7
Luck: 3
Big Guns, Unarmed, Throwing
Bonus HtH Attacks, Bonus HtH Damage, HtH Evade, Tough Hide
John
Junior Paladin
Complete Osceolla
17
Human
Chem Reliant, Chem Resistant
Strength: 7
Perception: 5
Endurance: 5
Charisma: 2
Intelligence: 8
Agility: 8
Luck: 5
Big Guns, First Aid, Doctor
Bonus Move, Lifegiver, Medic!, Living Anatomy, Die Hard
Kaisa
Knight Commander
Complete Osceolla
15
Human
Small Frame
Strength: 4
Perception: 6
Endurance: 5
Charisma: 6
Intelligence: 8
Agility: 8
Luck: 5
Traps, Science, Repair
Action Boy, Mr. Fixit, Weapon Handling, Crazy Bomber, Team Player
Karl
Knight
Complete Osceolla
13
Human
Jinxed
Strength: 10
Perception: 7
Endurance: 6
Charisma: 4
Intelligence: 4
Agility: 9
Luck: 2
Big Guns, Throwing, Sneak, Traps
Dodger, Tag!, Gain Agility, Gunner, Bone Head
Keith
Senior Squire
Complete Rock Falls
7
Human
Good Natured
Strength: 7
Perception: 5
Endurance: 6
Charisma: 4
Intelligence: 7
Agility: 6
Luck: 5
First Aid, Doctor, Sneak
Team Player, Stat!
Kevin
Senior Initiate
Available from the beginning
7
Human
Gifted
Strength: 8
Perception: 5
Endurance: 6
Charisma: 6
Intelligence: 7
Agility: 9
Luck: 6
Small Guns, Melee Weapons, Repair
Toughness
Krldraav
Junior Knight
Free and keep alive Mother in Mardin
9
Deathclaw
Finesse, Rabid
Strength: 13
Perception: 5
Endurance: 4
Charisma: 2
Intelligence: 3
Agility: 10
Luck: 3
Unarmed, Throwing, Sneak
Dodger, Brutish Hulk
Mac
Initiate
Complete Newton
19
Human (Reaver)
Strength: 5
Perception: 7
Endurance: 5
Charisma: 5
Intelligence: 6
Agility: 7
Luck: 5
Small Guns, Sneak, Science
Sharpshooter, Silent Running, Action Boy (2), Ghost, Thief
Malice
Junior Knight
Complete Mardin
10
Human (Raider)
Strength: 8
Perception: 6
Endurance: 6
Charisma: 3
Intelligence: 6
Agility: 9
Luck: 2
Big Guns, Energy Weapons, Melee Weapons
Bonus Move, Quick Pockets, Thief
Mandy
Senior Initiate
Available from the beginning
3
Human
Skilled, Gifted
Strength: 6
Perception: 8
Endurance: 7
Charisma: 5
Intelligence: 9
Agility: 7
Luck: 6
Small Guns, First Aid, Sneak
Martin
Junior Knight
Complete Mardin
10
Ghoul
Glowing One, Fear the Reaper
Strength: 8
Perception: 9
Endurance: 7
Charisma: 2
Intelligence: 5
Agility: 6
Luck: 5
Energy Weapons, Traps, Pilot
Scout, Lead Foot
Max
Knight
Complete Mardin
11
Human
Bruiser
Strength: 10
Perception: 5
Endurance: 7
Charisma: 5
Intelligence: 3
Agility: 7
Luck: 5
Big Guns, Energy Weapons, Throwing
Bonus Move, Strong Back, Heave Ho!
Mother
Junior Knight
Complete Mardin, keep the Deathclaw Matriarch alive
10
Deathclaw
Bruiser, Domesticated
Strength: 12
Perception: 6
Endurance: 12
Charisma: 2
Intelligence: 4
Agility: 12
Luck: 3
Unarmed, Sneak, Outdoorsman
Brutish Hulk, Hide of Scars
Pain
Junior Knight
Complete Mardin
10
Human
Strength: 6
Perception: 5
Endurance: 9
Charisma: 4
Intelligence: 5
Agility: 6
Luck: 5
Small Guns, Melee Weapons, First Aid
Faster Healing, Rad Resistance, Adrenaline Rush
Peta
Paladin Commander
Complete Newton
19
Human
Small Frame
Strength: 7
Perception: 7
Endurance: 6
Charisma: 6
Intelligence: 4
Agility: 10
Luck: 2
Energy Weapons, Melee Weapons, Sneak
Bonus HtH Damage (2), Rad Resistance, Lifegiver, Stunt Man, Road Warrior, Leader
PIPBoy
Civilian
Locate the special encounter
8
Special
Strength: 7
Perception: 6
Endurance: 6
Charisma: 5
Intelligence: 6
Agility: 6
Luck: 10
Small Guns, Big Guns, Energy Weapons, Sneak
Pump
Senior Knight
Complete Osceolla
13
Super mutant
Heavy Handed
Strength: 12
Perception: 1
Endurance: 12
Charisma: 2
Intelligence: 3
Agility: 6
Luck: 4
Big Guns, Unarmed, Melee Weapons
Bonus HtH Damage (3)
Rage
Senior Initiate
Available from the beginning
3
Human
Strength: 5
Perception: 8
Endurance: 5
Charisma: 2
Intelligence: 8
Agility: 7
Luck: 5
Small Guns, Sneak, Steal
Awareness
Rebecca
Senior Initiate
Available from the beginning
3
Human
Strength: 5
Perception: 8
Endurance: 4
Charisma: 4
Intelligence: 6
Agility: 8
Luck: 5
Small Guns, First Aid, Lockpick
Scout
Rex
Training
Tutorial character; unavailable in the campaign
1
Human
Strength: 6
Perception: 5
Endurance: 7
Charisma: 4
Intelligence: 5
Agility: 8
Luck: 5
Small Guns, Melee Weapons, Throwing
Riddick
Junior Knight
Locate the special encounter
Human
Heavy Handed, Night Person
Strength: 8
Perception: 7
Endurance: 7
Charisma: 1
Intelligence: 5
Agility: 7
Luck: 5
Melee Weapons, Unarmed, Sneak
Bonus HtH Damage, Night Vision, Silent Running, Survivalist, Silent Death, Adrenaline Rush
Robin
Initiate
Available from the beginning
1
Human
Small Frame, Night Person
Strength: 5
Perception: 5
Endurance: 5
Charisma: 3
Intelligence: 5
Agility: 9
Luck: 5
Melee Weapons, Sneak, Lockpick
Shaav
Senior Squire
Complete Mardin and keep the Matriarch alive
8
Deathclaw
Small Frame, Night Person
Strength: 6
Perception: 7
Endurance: 7
Charisma: 1
Intelligence: 1
Agility: 14
Luck: 3
Unarmed, First Aid, Sneak
Silent Running, Tunnel Rat
Shaky
General
Complete Newton
21
Human
Chem Reliant
Strength: 4
Perception: 8
Endurance: 7
Charisma: 1
Intelligence: 8
Agility: 8
Luck: 4
Small Guns
Traps
Repair
Pilot
Action Boy, Dodger, Mr. Fixit, Tag!, Demolition Expert, Light Step, Weapon Handling, Road Warrior, Lead Foot
Sharon
Senior Initiate
Complete Rock Falls
4
Human
Chem Resistant
Strength: 6
Perception: 5
Endurance: 7
Charisma: 8
Intelligence: 5
Agility: 6
Luck: 3
Small Guns, Big Guns, Sneak
Flower Child
Shriek
Senior Squire
Complete Mardin and keep the Matriarch alive
8
Deathclaw
Chem Resistant
Strength: 13
Perception: 5
Endurance: 6
Charisma: 3
Intelligence: 3
Agility: 7
Luck: 3
Unarmed, Sneak, Steal
Silent Death, Brutish Hulk
Slim
General
Complete Newton
21
Human
Small Frame, Gifted, Tech Wizard
Strength: 6
Perception: 6
Endurance: 6
Charisma: 6
Intelligence: 10
Agility: 10
Luck: 3
Energy Weapons
Sneak
Science
Repair
Silent Running, Mr. Fixit, Master Thief, Swift Learner, Tag!, Light Step, Tunnel Rat, Leader
Stein
Squire
Complete Rock Falls
5
Human
Strength: 7
Perception: 8
Endurance: 5
Charisma: 4
Intelligence: 5
Agility: 7
Luck: 4
Small Guns, Big Guns, First Aid
Healer
Stevie
Senior Initiate
Complete Rock Falls
3
Human
One Hander
Strength: 5
Perception: 7
Endurance: 4
Charisma: 4
Intelligence: 8
Agility: 8
Luck: 4
Small Guns, Unarmed, Sneak
Thief
Stitch
Initiate
Part of the starting squad
2
Human
Good Natured
Strength: 6
Perception: 4
Endurance: 5
Charisma: 5
Intelligence: 9
Agility: 5
Luck: 4
Small Guns, First Aid, Doctor
Stoma
Senior Squire
Complete Rock Falls
7
Human
Bruiser
Strength: 10
Perception: 6
Endurance: 9
Charisma: 4
Intelligence: 4
Agility: 5
Luck: 4
Small Guns, Big Guns, Energy Weapons
Strong Back, Stonewall
Strom
Training
Tutorial character, not available in the campaign
2
Human
Strength: 7
Perception: 6
Endurance: 8
Charisma: 3
Intelligence: 6
Agility: 5
Luck: 5
Small Guns, Unarmed, Melee Weapons
Stumpy
Senior Squire
Complete Rock Falls
7
Human
One Hander
Strength: 7
Perception: 7
Endurance: 6
Charisma: 5
Intelligence: 7
Agility: 5
Luck: 3
Small Guns, Melee Weapons, Traps
Crazy Bomber, Bone Head
Target
Squire
Complete Rock Falls
5
Human
Strength: 7
Perception: 6
Endurance: 4
Charisma: 4
Intelligence: 8
Agility: 7
Luck: 3
Small Guns, Throwing, Sneak
Hit the Deck
Toni
Knight
Complete Osceolla
13
Supermutant
Kamikaze
Strength: 9
Perception: 6
Endurance: 6
Charisma: 3
Intelligence: 7
Agility: 5
Luck: 4
Big Guns, Energy Weapons, Melee Weapons
Stonewall, Steady Arm, Tough Hide
Torn
Initiate
Available from the start
1
Human
Strength: 8
Perception: 7
Endurance: 7
Charisma: 4
Intelligence: 4
Agility: 6
Luck: 4
Unarmed, Melee Weapons, Traps
Bonus HtH Attacks
Trevor
Initiate
Available from the start
2
Human
Fast Shot
Strength: 9
Perception: 6
Endurance: 5
Charisma: 4
Intelligence: 4
Agility: 7
Luck: 5
Small Guns, Throwing, Sneak
Vector
Knight Commander
Complete Osceolla
15
Human
Strength: 6
Perception: 9
Endurance: 6
Charisma: 5
Intelligence: 3
Agility: 6
Luck: 5
Small Guns, Sneak, Steal
Sharpshooter, Action Boy, Thief, Tunnel Rat, Flexible
Gallery
References
↑

Clarise is arguably the most powerful recruit available to the player, as her build breaks the game rules: she has three traits out of a max of two, perception one point above the racial max and TWELVE perks (normally, at level 22 with Divine Favor she should only have eight).

↑

Normally a ghoul-only trait