In the next few weeks, your wiki will be migrated to a Fandom.com domain. Learn more here.
Farmer (special encounter)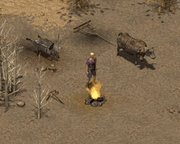 Farmer is a special encounter in Fallout Tactics.
In this encounter, you'll find a lone farmer tending to his crops. It is possible to trade items and Ring Pulls with him for a number of things, including the powerful .50 Cal DU ammunition.
Inventory