Heisenberg compensation field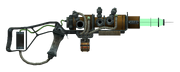 The Heisenberg compensation field is an integral element of urban plasma rifles developed by REPCONN Aerospace for the U.S. military.
Background
The Heisenberg compensation field is a crucial step in the matter modulation process underlying the new model plasma rifle. REPCONN Aerospace was having trouble with the matter conversion process occurring in the field, blockading their attempts at further development of the weapon. However, thanks to the wonders of industrial espionage, Poseidon Energy's aborted Semele plasma rifle provided the necessary technical data to resolve the issue.[1]
Appearances
The Heisenberg compensation field is mentioned only in Fallout: New Vegas.
References
↑ REPCONN Headquarters terminal entries: "REPCONN Inter-office Correspondence #3458503
To: Xuan Duong, Senior Staff Engineer
From: Carl Rook, Vice President
Xuan,
One of my contacts at Poseidon energy found the specs for the canceled SEMELE plasma rifle. I'm sending them over to your team. From what I can tell they've managed to resolve the matter conversion issue you've been having with the Heisenberg Compensation Field. Combined with the data from the sabotaged launch, I think you should have everything you need to complete the Q-35. Colonel Moretti is expecting results with this project, I don't need to tell you what a favorable evaluation from his desk will do for all our stock portfolios.
Carl"