Hermit (special encounter)
Split suggested (Character and Encounter)

It has been suggested that this article or section should be split in multiple parts. Please help

The Vault

by discussing this issue on the

article's talk page

.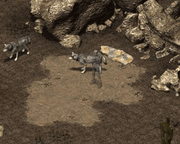 Hermit is a special encounter in Fallout Tactics.
In this encounter, you'll find a hermit surrounded by a number of friendly wolves. It is possible to trade equipment and Ring Pulls with him for a number of mid-level items.
Inventory