Komodo Man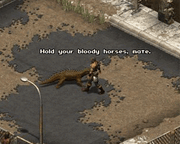 Komodo Man is a special encounter in Fallout Tactics.
In this encounter, you will find Komodo Man wrestling a Komodo Dragon in front of a large audience. If you wait around long enough, the dragon will eventually kill Komodo Man and the crowd will disperse.
Behind the scenes
The Komodo Man with his Australian accent and his fight with a Komodo are very likely references to the late "Crocodile Hunter" Steve Irwin.