As part of the Unified Community Platform project, this wiki and 38 others will be migrated to the new platform, with migrations beginning September 23rd at 7am CDT. Minimal changes are expected as part of this migration. Read more here.
Lunchbox (Fallout Shelter)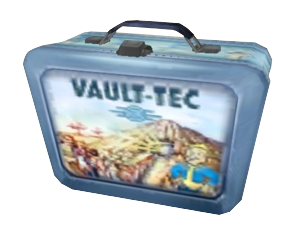 Lunchboxes are a rare bonus item available in Fallout Shelter as rewards for completing objectives and as a purchasable option in the game.
Overview
When opened, a lunchbox provides five Fallout Shelter cards at random (of which at least one card is guaranteed to be rare or better):
Earning lunchboxes
Lunchboxes can be acquired in four ways:
Reward for completing certain objectives.
Reward for completing certain quests.
Special promotions (i.e. commemorating the launch of Far Harbor).
In-app purchases.
Purchase
Lunchboxes are an in-game purchase option for the game. They are not necessary for playing, but can provide a great boost. Lunchbox prices are typically discounted during certain holiday seasons or for other promotional purposes.
| Quantity | Price | Per unit |
| --- | --- | --- |
| 1 | $0.99 | $0.99 |
| 5 | $3.99 | $0.80 |
| 15 | $9.99 | $0.67 |
| 40 | $19.99 | $0.50 |