In the next few weeks, your wiki will be migrated to a Fandom.com domain. Learn more here.
Manta Man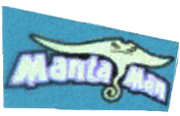 Manta Man was a popular comic book series in 2077 distributed by Hubris Comics Publishing. Because of the Great War, the series was never continued.[1]
Manta-Man: Voyages of the Deep (August 2077)
Manta-Man: The Shrimp of Doom (September 2077)
Behind the scenes
"Manta Man" may be an analogue to the superhero Aqua Man.
Appearances
The Manta Man series is mentioned in Fallout 3, and ruined copies of it can be found in Fallout 4.
References