Meet the Fallout 3 devs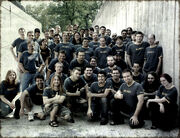 Meet the Fallout 3 devs is a collection of articles containing questions from Bethesda Games Studios Forums users and answered by different Bethesda Softworks developers. Originally posted on several 'Meet the Devs' threads at Bethesda's Fallout 3 forum.
See Fallout 3 developers for a fuller list of devs.
List of developers
Bethesda devs that have posted in the Meet the Devs threads: