Meet the Fallout 3 devs - Pete Hines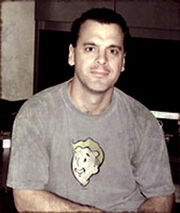 Pete Hines is the vice president of Bethesda Softworks and is in charge of public relations and marketing. On Bethesda Game Studios Forums he uses the nickname "Pete".
The following are Pete Hines's posts from the Meet the Devs threads on Bethesda forums:
Pete Hines's posts
I noticed that everytime someone mentions a 'table top game', it turns out to be a minis game like Confrontation, W40k, Necromunda... don't you guys play any other type of games? Lke Puerto Rico, Power Grid, Caylus or Settlers Of Catan?
Catan has been popular around the office lately. A lot of us playing it online on the 360 and I believe it was part of last week's gaming night. We used to have daily games of Carcassone during lunch, although those sometimes got a little heated...though not as heated as the LotR Risk games. Oof.
We talked about playing A Game of Thrones because a lot of us are making our way through the book series. Hasn't happened yet, though.
(...)
Like I said, we played some LotR Risk for a while (we did team-based play, 2 v 2, tons of fun), did a couple games of War of the Ring with Maturin and another designer (have to pull that out again, if only the setup wasn't so darn big)...stuff like that. Most of my gaming at lunch of the last few months has been co-op or (lately) head-to-head Company of Heroes with Maturin.
See also
External links