Mir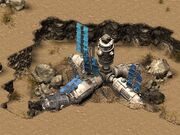 Mir is a special encounter in Fallout Tactics.
In this encounter, you'll find the remnants of the Soviet space research station, Mir, lying in a giant crater in the middle of the wastes. There is nothing of note to be found or picked up here by the warrior.
Behind the scenes
The Mir orbital station was the first consistently inhabited long-term research station in space and was in orbit for nearly 10 years. The station burnt up in Earth's atmosphere after its deorbiting in 2001, and its few remaining fragments fell into the Pacific Ocean, therefore it could in no way have survived the reentry in such a good condition, crashed into the solid ground in America, and stayed so well preserved for almost 200 years as the special encounter presents.