Mistress of Mystery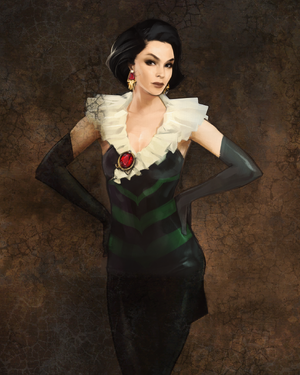 Mistress of Mystery was a fictional heroine created by Hubris Comics, featured in numerous properties. She is most commonly associated with Shannon Rivers, actress who provided her iconic voice and later fought to portray her in the upcoming Silver Shroud TV series.
Background
The Mistress of Mystery is one of the longest-running and most popular superheroes in the Hubris Comics canon. First appearing in Hubris Heroes! #8 (2039), the Mistress of Mystery has been featured in hundreds of comic books, radio broadcasts, and other properties and licenses, including a weekly newspaper strip (2052-57), five novels, and several lines of action figures. In August 2077, it was announced that the Mistress would also have a major role in the upcoming live-action Silver Shroud television show, her first appearance on screen.[1]
Born Claudia Martin, the daughter of American archaeologists, her young life was torn apart when her parents mysteriously vanished while investigating the Lost Pryamid of Amun-Re. Orphaned and alone, she was forced to survive by her wits on the streets of Cairo until she was adopted by a wealthy heiress. On her eighteenth birthday, she came into possession of her parents' effects and set out to learn the truth behind their disappearance, delving into a web of ancient legends, occult societies, and dark intrigue.[1]
The Mistress of Mystery is a confident, quick-thinking, and capable hero. Instead of superhuman or mystical powers, she relies on her skill, training, cunning, stealth, and subterfuge to overcome her foes. Although she often operates alone, she has appeared alongside many of Hubris Comics' other heroes over the course of her career, most notably the Silver Shroud (her longtime friend and former love interest), the Inspector (her partner in the Mysterium! mystery serials), and the rest of Hubris' heroes on the team of The Unstoppables![1]
The Mistress of Mystery has been drawn by over thirty artists, notably Tara Winters, Kelly Donnovan, and Lucille Perkins. The iconic radio voice of the Mistress of Mystery is Shannon Rivers.[1]
Equipment
In addition to her skills and training, the Mistress of Mystery drew upon an arsenal of powerful tools to aid her in her work.[2]
References