New CA Republic Raw Edge Hoodie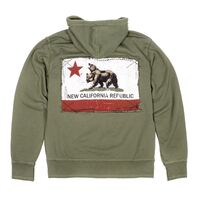 New CA Republic Raw Edge Hoodie is a piece of Fallout: New Vegas merchandise.
Description
"
Men's army green raw edge full-zip hoodie with the New California Replublic flag screenprinted on back with embroidered logo on left chest.
This style offers raw edge details in a fitted body with quality construction.
8.5 oz, 80% cotton 20% polyester blend fleece
Raw edge seams at hood, armholes, underarm, side body, wrist, front pocket, cuffs, zipper, sweep and waistband.
MP3 holder and eyelet in front pocket.
"
Gallery
External links