Pipboy (special encounter)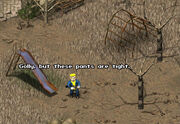 Pipboy is a special encounter in Fallout Tactics.
In this special encounter you find the famous Vault Boy, called Pipboy here, wandering around a radioactive playground. He speaks in a weird 50's style and carries an FN FAL. If you have full squad, he wanders away when you talk to him. If you have less than that, he joins you.
If it does not work with 5 people in the squad then reduce to just 2.
Pipboy's Abilities: ST 7, PE 6, EN 6, CH 5, IN 6, AG 6, LK 10, level: 8, Bloody Mess, Tag!, Stunt Man, Flexible (useless as he can not change stance), small guns(100), big guns (33), energy weapons (75), sneak (80), can wear any armor.
Name confusion
As explained in this article, the 'Vault-Boy' is incorrectly called 'Pip-Boy' in this encounter - 'Vault-Boy' being the name given by its creator, Leonard Boyarsky. It is a common misconception, as the character was never given a name in-game, only referred to in interviews.
The 'Pip-Boy' is the red haired, pointy-eared character that featured on the Pipboy-2000 in Fallout 1 and Fallout 2.