Poindexter
"
It's highly unlikely you'd understand anything I'd say. Suffice to say I'm a certified genius, and when I'm discharged from this pit of testosterone and failure, I'll have all the money I could ever need.
"
Private Poindexter is a soldier assigned to The Misfits platoon at Camp Golf in Fallout: New Vegas.
Background
Soldiers tend to be an exceptional type of human. Selfless, brave, and unafraid of hard work. Poindexter is none of these things, compensating for it with an ego the size of Hoover Dam and thinly veiled contempt for his fellow troopers. To himself, he's a certified genius whom everyone at the Camp looks up to. To everyone else, he's an annoying know-it-all who cannot follow orders.[1][2][3][4][5]
If anyone wonders what someone like Poindexter is doing in the ranks of New California's military, it's simple: He figures that the benefits offered by the Army, both in terms of money and prestige, are worth the risk of bodily harm. To minimize the risk to himself, he deliberately rides the mediocrity gradient, doing just well enough to stay in service, but not good enough to be sent to the front lines. That way, he can eventually "work" his way to a cushy desk job back in New California as, technically, a veteran.[6][7][8] A veteran's pension is an added bonus.[8]
Interactions with the player character
Interactions overview
| | | |
| --- | --- | --- |
| | This character is involved in quests. | |
Quests
Flags of Our Foul-Ups: If asked for a solution to the problem of the Misfits' readiness, he will suggest hacking the readiness reports at Camp Golf. Doing so results in a bad enging for the Misfits and Camp Golf.[9]

Poindexter will also need convincing to work better with the squad if they elect to follow O'Hanrahan's advice. This is achieved with Speech 40 and helps the Misfits work better as a team.

No, Not Much: Completing the above quest and helping the Misfits is required for Camp Golf to send aid to Bitter Springs.
Inventory
Behind the scenes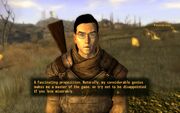 Leftover voice clips and dialogue options indicate that Poindexter was supposed to be a Caravan player at one point. However, the option is dummied out and Poindexter has no deck, scripting, money, or factions assigned that would allow for him to play with the player.
Bugs
Poindexter is marked as respawning and will reappear if killed after three in-game days.
Appearances
Poindexter appears only in Fallout: New Vegas.
References