In the next few weeks, your wiki will be migrated to a Fandom.com domain. Learn more here.
RobCo Industries Termlink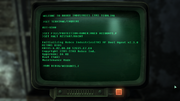 RobCo Termlink is a protocol of the Unified Operating System, used to log into the system and recover lost passwords.
Background
Termlink is a basic program allowing for rudimentary interaction with a given computer system. Apart from logging in, it also allows anyone with a rudimentary understanding of IT to force a reboot in maintenance mode and create a memory dump including the password for the terminal. This security loophole is prevalent in all terminals using the UOS.
Error codes
In case the protocol encounters an error, it will display an error code.
Image
Code
Message attached
Purpose
Place where a terminal show it
0x03C663A1
Network connection not found

Dummy terminal inactive

The BIOS could not find the network link.
Camp Golf
Camp McCarran
Camp Searchlight
Securitron vault
The Tops
0x0AABFF00
Primary power source unavailable

Check all cords and plugs for connection

Power cord / power supply unit failure.
Camp Golf
Fortification Hill
LVB station
0x00B636C6
No input device found

Connect a keyboard

The BIOS could not find the keyboard.
Vault 3
0xBA53FFFA
Malicious Virus Detected.

Virus Detected. Shutting Down.

Virus infection.
0xF141A013
No Data Storage Detected.

Check Tape Drive Connection.

The BIOS could not find a storage device.
The Tops
0x357C5001
Bad Sectors Found In Boot Block.

Terminal Error.

A fatal error due to a corrupt sector.
0xFFFFF710
Processor Corru;xsfkleg,,g364[735}3__.
A fatal error due to a corrupt processor.
Goodsprings schoolhouse
0x07F6BAAC
Bad Data. Cannot Read.
A fatal error due to a

memory / network / storage corruption.

Vault 3
Gallery
Appearances
The RobCo Termlink appears in Fallout 3, Fallout: New Vegas, and Fallout 4.