As part of the Unified Community Platform project, this wiki and 38 others will be migrated to the new platform, with migrations beginning September 23rd at 7am CDT. Minimal changes are expected as part of this migration. Read more here.
Science theme
The Science theme is one of the possible themes for the player residence in Fallout 3.
Megaton House
After buying this theme for your house, you will get lots of small and big computers in your house. Your house will contain: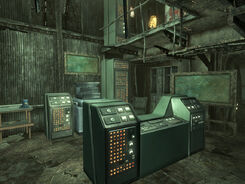 Tenpenny Tower suite
As in all themes, the list of items are different if your home is in Tenpenny Tower.