In the next few weeks, your wiki will be migrated to a Fandom.com domain. Learn more here.
Talk:Vault-Tec Corporation
It is not the place for general discussion or sharing stories about the topic of this article. Please use

the forums

for these purposes.
Vault-Tec and FEV
Well, this is an issue that people have picked up. What I suggest is the parties involved use the discussion page, and not turn the article into a back-and-forth between two parties. --MercZ 22:44, 24 December 2008 (UTC)
Storyline Inconsistencies
Many new fallout players often don't understand that if there were so few survivors why build so many testing vaults anyway. Sure, the government had a couple of vaults and so did vault-tec but in the end they all got shot to shit (not literally). Besides, how would they expect to carry out their experiments in a hostile post-nuclear world? A lot of the vaults the player finds throughout all 3 games are just fucked up massively except the obviuos ones. Id say theres less than a 10% success rate (including ones that the player also led to the destruction of). The testing seems pointless given that so few survived what are(were) they gonna do with any result?
Incomplete List of Employees.
Under the Employees Section shouldn't they include the Overseers of the Vaults along with the scientists involved in The Vault 87, Vault 92, and other said Vaults because "according to the letter from Dr. Braun, in the Vault 101 Overseer terminal, if the overseer disclosed the contents of the sealed orders or deviated from the experiment, it can be grounds for termination of employment from Vault-Tec." Which directly says they are in the employment of Vault-Tec and also implies that Braun was their superior and possiblly even a Chairman of the company? -bleep196- 01:10, 5 August, 2010
Missing Sign Image
In the Murder Pass caverns there is a Vault-Tec brand sign that isn't on the Vault yet.--Ant2242 21:22, 11 April 2012 (UTC)
For example.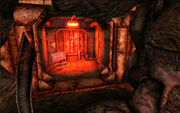 Watches
In Tranquility Lane you are given a Vault-boy watch to replace your pip-boy. Would that indicate that Vault-Tec made watches as a promotional item (pre-war)?--Ant2242 18:20, 30 May 2012 (UTC)
I would say not, since the watch is a computer generated model in the sim. It would be like saying that Beth makes laser rifles. 20:24, 30 May 2012 (UTC)

Beth?--Ant2242 21:30, 30 May 2012 (UTC)
Slogan
Does anyone know where the slogan is from exactly. I believe the slogan is from a banner somewhere. Can someone check?--Ant2242 (talk) 12:32, 18 November 2013 (UTC)
Vault-Tec Research Group
Could this group be a particular division within the corporation? Maybe something psychological in nature?--Ant2242 (talk) 08:36, 28 July 2015 (UTC)
Other products
While skimming through the Vault Dweller's Survival Guide I came upon a few more possible products. Specifically backyard shelters and a "Fallout Survival Kit."
1-1
Welcome to Vault-13, the latest in a series of public defense works from Vault-Tec, your contractor of choice when it comes to the best in nuclear shelters. Vault-Tec, America's Final Word in Homes.

3-3
Fortunately, with the Fallout Survival Kit, your happiness is assured. Vault-Tec guarantees it!1

1Guarantee not available in all states, or after any of the following: flooding, drought, famine, nuclear war, or other acts of God.