Targeted shot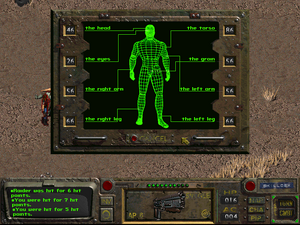 Targeted shots (also called aimed shots) are attacks that are aimed at a specific location on the opponent. They are harder to do (each location confers a negative modifier to the chance to hit, except for the torso), but can potentially do much more damage or result in a critical hit.
If a weapon is capable of making a targeted shot, it will have a different mode on the active weapon button, activated by right-clicking on the active item field. Targeted shots are available when a bulls-eye target marker is visible in the lower right-hand corner. There are limitations: Burst and explosive weapons cannot be used to make targeted shots. A player character with the Fast Shot trait will also be unable to make them on any weapon.
Usage
Once targeted shot mode is active, the player clicks on the target as normal. Instead of the default attack, however, a target selection screen is displayed with the calculated chance to hit for each of the eight body parts: Torso, head, eyes, both arms, both legs, and groin. If a chance to hit goes into the negative, two dashes are displayed instead.
Effects
The effect of a targeted shot depends on the body part hit. As a rule of thumb, the harder it is to hit, the greater the effect. Obviously, the choice of whether to make a targeted shot and what to aim for depends on the circumstances. If outmatched, trying to knock out the target with a shot to the legs or groin can be effective. If outgunned, disarming them by targeting the arms might be optimal. If the weapon skill level is at high levels, going for the eyes is the optimal choice.
Body part
Accuracy modifier
Effect
Roll
0-20
21-45
46-70
71-90
91-100
101+
Torso
None
Damage bonus
+50%
+100%
+200%
Critical success effect
None
Ignores armor
Instant Death
Legs
-20%
Damage bonus
+50%
+100%
Critical success effect
None
Leg crippled if target fails an Endurance test
Leg crippled
Arms
-30%
Damage bonus
+50%
+100%
Critical success effect
None
Arm crippled if target fails an Endurance test
Arm crippled
Groin
-30%
Damage bonus
+50%
+100%
+200%
Critical success effect
None
Ignores armor
Head
-40%
Damage bonus
+100%
+150%
+200%
Critical success effect
None
Knock-out if target fails an Endurance test
Knock-out
Instant Death
Eyes
-60%
Damage bonus
+100%
+200%
+300%
Critical success effect
None
Ignores armor

Blinded if target fails a Luck roll

Ignores armor

Blinded if target fails a Luck roll (-3 modifier)

Ignores armor

Blinded

Lose turn

Ignores armor

Blinded

Knock-out

Instant Death
See also