As part of the Unified Community Platform project, this wiki and 38 others will be migrated to the new platform, with migrations beginning September 23rd at 7am CDT. Minimal changes are expected as part of this migration. Read more here.
Template:Featured article/Fallout 3/13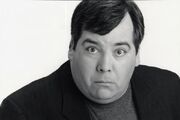 Wes Johnson (born 6 June 1961) is a North American actor and voice actor who voices Mister Burke in Fallout 3. He has appeared in The Elder Scrolls IV: Oblivion, as well as such films as John Waters' A Dirty Shame, Head of State, and the Nicole Kidman thriller The Invasion. He also appeared in For Richer or Poorer, Hearts in Atlantis, and the indy short Ted's 12.