As part of the Unified Community Platform project, this wiki and 38 others will be migrated to the new platform in the next few weeks. Minimal changes are expected as part of this migration. Read more here.
Template:Featured article/Fallout: New Vegas/11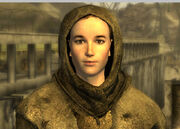 Veronica Santangelo was born and raised in the Brotherhood of Steel - her mother a scribe, her father a paladin. In her youth she fell in love with another girl, but her lover's parents disapproved of same-sex relationships.
After following the Brotherhood from California to the Mojave Wasteland, Veronica became disillusioned with their goals. Her mentor, Elder Elijah became unstable, growing obsessed with technology for technology's sake. Irritated by what she sees as the Brotherhood's unrealistic and uninformed views of themselves and the world, Veronica is a perpetual outsider caught between her loyalty to the Brotherhood and her doubts about their current course.