Template:Featured article/Fallout: New Vegas/20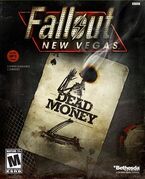 Dead Money is the first add-on for Fallout: New Vegas and was released on December 21, 2010 for the Xbox 360 platform.
It is set in the Sierra Madre, an opulent and extravagant resort that was supposed to be the greatest casino in the west – except that it never opened. Bombs fell before the gala opening, and the Sierra Madre froze in time, its state of the art security system locking the place up tight. Nothing could get in, and none of the guests could escape. As the years passed, the Sierra Madre faded from the history books, only occasionally being seen in posters across the wastes, until it took on mythic ghost story status... a supposed "City of Gold" in the Mojave Wasteland where all the treasures of the Old World were rumored to be held.