Template:Featured article/Fallout: New Vegas/21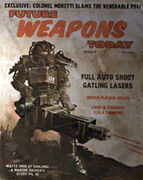 A pre-War gun magazine similar to the Guns and Bullets, Future Weapons Today was entirely devoted to energy weapons. The March issue that's so prominent in the Mojave Wasteland included an interview with Colonel Moretti slamming the venerable Winchester P94 plasma rifle, an article on new fully-automatic Gatling lasers, urban plasma rifles, light and compact Tesla cannons and a story covering a marine sniper with a Wattz 2000 laser rifle in Nanjing on page 42.
Reading it temporarily raises the player's Energy Weapons skill by 10 points, or 20 points with the Comprehension perk.