Template:Featured article/Fallout: New Vegas/31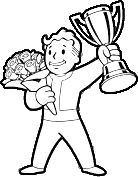 Challenges are tasks which the player can undertake in order to earn experience points or special perks. They can be found on the Pip-Boy 3000's "Data" tab.
Some challenges do not show up until some progress has been made. For example, "A little critical" only shows up after you've scored at least one critical hit with a one handed gun. Other challenges are not available until a prior one of the same general type has been completed.