Template:Featured article/Fallout 2/26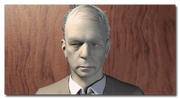 Dick Richardson is the President of the Enclave from 2220 to 2242, at the time of Fallout 2.
Richardson was initially a Congressman of the Enclave, rising to power (a process beginning in 2215) with help from his father, Richardson senior, who served as the President of the Enclave in the term that preceded his son's own succession to the office. This process ended up with Dick Richardson being elected to the presidency in 2220 for his own first term as the President of the Enclave. By 2242 Richardson is serving his sixth term in that office, leading the Enclave towards a new era of "American" prosperity and mutation-free humanity.