In the next few weeks, your wiki will be migrated to a Fandom.com domain. Learn more here.
Template:Featured article/Fallout 3/13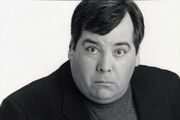 Wes Johnson (born 6 June 1961) is a North American actor and voice actor who voices Mister Burke in Fallout 3. He has appeared in The Elder Scrolls IV: Oblivion, as well as such films as John Waters' A Dirty Shame, Head of State, and the Nicole Kidman thriller The Invasion. He also appeared in For Richer or Poorer, Hearts in Atlantis, and the indy short Ted's 12.