As part of the Unified Community Platform project, this wiki and 38 others will be migrated to the new platform in the next few weeks. Minimal changes are expected as part of this migration. Read more here.
Template:Featured article/Fallout Tactics/1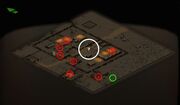 The Fallout Tactics demo is a freely downloadable playable demonstration of the gameplay of Fallout Tactics: Brotherhood of Steel. There are two versions of the Fallout Tactics demo: a single-player demo and a multiplayer demo.
The single-player demo includes four training missions and two missions: Dirt Haven and Devil's Graveyard. A squad of Brotherhood Initiates is sent to deal with raider gang leaded by Gargantua. The multiplayer demo adds a multiplayer component to the two-level single player demo.