As part of the Unified Community Platform project, this wiki and 38 others will be migrated to the new platform in the next few weeks. Minimal changes are expected as part of this migration. Read more here.
Template:Featured article/Fallout Tactics/13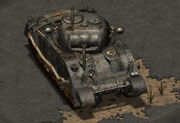 The vehicle called "tank" in Fallout Tactics is a Sherman which has been heavily modified over the years. Basically all of your preconceived ideas about tanks being heavy, slow but virtually unstoppable are born out by this baby.
Unlike other Fallout Tactics vehicles, it has a 75mm gun called Tank Gun which can lob a shell over a reasonable distance. It is owned by the Reavers and stationed in their main camp, Newton, until a squad of Brotherhood of Steel, led by the Warrior, comes, repairs it and takes it under their control.