As part of the Unified Community Platform project, this wiki and 38 others will be migrated to the new platform, with migrations beginning September 23rd at 7am CDT. Minimal changes are expected as part of this migration. Read more here.
Template:Featured article/Fallout Tactics/18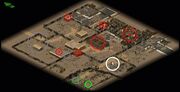 Brahmin Wood is a resource-rich tribal village in the area of the pre-War city of Chicago, Illinois. In 2197 it is invaded by a group raiders led by Horus. Brahmin Wood's losses are heavy and they decide to accept the Eastern Brotherhood's conditions for protection. Eventually, a small squad of Brotherhood recruits returns their lands and rescues these primitive people in exchange for food and a portion of their older children for new recruits.
The village Elder or Tribal Father is Charon, who is skeptical to the benevolence of the Brotherhood's intentions, but agrees to their terms after the village was rescued from the hands of raiders by the Brotherhood. The shaman of Brahmin Wood is called Hawkeye, who is only vaguely interested in the affairs of the village.