As part of the Unified Community Platform project, this wiki and 38 others will be migrated to the new platform, with migrations beginning September 23rd at 7am CDT. Minimal changes are expected as part of this migration. Read more here.
Template:Featured article/Main/6 December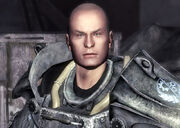 Paladin Tristan is a field commander in Lyons' Brotherhood of Steel. In light of Sentinel Lyons' inability to command after the Battle of Project Purity, Tristan has taken over command of Brotherhood military operations. He follows Elder Lyons' ideals on the new direction the rouge faction of the Brotherhood of Steel is taking very closely with a serious, no-nonsense and wise demeanor. Like few others, he was a part of the original expedition that discovered the Pentagon ruins with then Paladin Lyons. As the Brotherhood chases down the remnants of the Enclave in the Capital Wasteland, Tristan gives the Lone Wanderer several important objectives to aid the Brotherhood and their final goal.