The Vault:Wiki news digest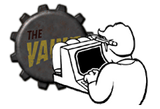 Wiki news digest
The wiki news digest is a summary of The Vault's recent internal news. It is the place to mention all the small things and improvements which do not justify an own news item and is posted weekly on the main page, if there is enough news in a given week to warrant such a digest.
How does it work?
Any editor may suggest items to be included in the next issue (see Suggestions for next issue below). The issues are usually posted by one of The Vault's administrators once enough content has been accumulated, although any editor is welcome to do so in case it is forgotten. What items end up being included is up to the one who posts the news item; please do not be discouraged or disappointed if your suggestion did not make it.
What kind of content should be included?
The wiki news digest is primarily reserved for internal news, i.e. news relating directly to this wiki. News concerning the Fallout games themselves should not be included unless they have a major impact on the wiki (such as the release or announcement of a new Fallout game).
This includes (but is not limited to) things like improvements to the wiki, forum/policy discussions people should take part in, new projects or projects which are still looking for participants - basically everything wiki-related which you'd like to bring to the attention of other editors.
Suggestions for next issue
Posting a wiki news digest
Wiki news digests should be named "Blog:Wiki/Wiki news digest <digest number in 2 digits>-<year in 4 digits>".
The box below allows you to create a new digest with the appropriate layout. Simply enter the name of the new digest ("Blog:Wiki/Wiki news digest " is automatically added) and click the "Create" button.
| | |
| --- | --- |
| Enter digest number: | <createbox> default=00-2020 preload=Template:Create news/wiki/news digest prefix=Blog:Wiki/Wiki_news_digest_ width=40 </createbox> |
Recent digests
The three most current issues are displayed below. For a full list, please refer to Category:Wiki news digests.