As part of the Unified Community Platform project, this wiki and 38 others will be migrated to the new platform in the next few weeks. Minimal changes are expected as part of this migration. Read more here.
User talk:Commdor
Hi there!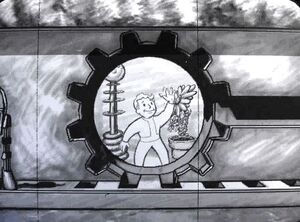 Welcome to our Fallout wiki, and thank you for your contributions! There's a lot to do around here, so I hope you'll stay with us and make many more improvements.
Recent changes is a great first stop, because you can see what other people are editing right this minute, and where you can help.
Questions? You can ask in the Forum or on the "discussion" page associated with each article, or post a message on my talk page!
Need help? The Help page has an outline of the site, and pages to help you learn how to edit. See the Vault's Policy page for general guidelines and code of conduct.
I'm really happy to have you here, and look forward to working with you!
Ausir 00:28, 20 February 2009 (UTC)
Fixed width help
It's pretty simple actually :) All you need to do is add the fixed width CSS to wikia:masseffect:Special:MyPage/monaco.css. This will make the wiki fixed width only for you. -- Porter21 (talk) 12:11, June 23, 2010 (UTC)
Help finding the original
On the File:Museum_of_Freedom_mural_1776-1942-2077.jpg you mentioned that original and larger\png file was posted on bethblog, but if I click on the post there I can only get the jpg version. Do you happen to have a direct link for it or assuming you have saved possibly post it on some hosting site, thanks. --Pseudon2 (talk) 10:55, 7 July 2015 (UTC)